Backyard Game To National League
---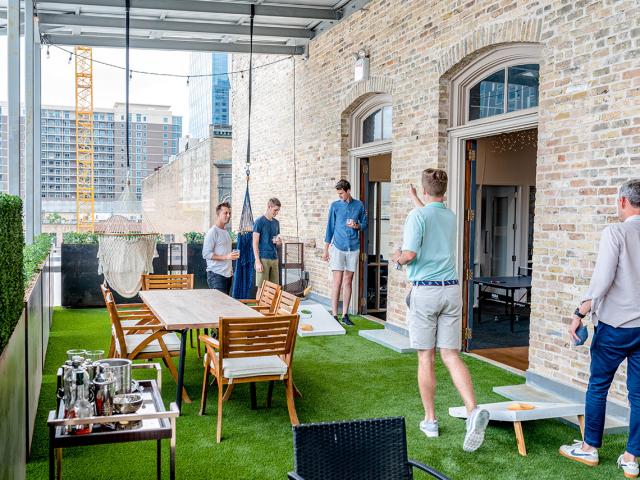 When you talk about national sports with your friends, one would think about football, soccer, and baseball, but not necessarily Cornhole Boards. That's right, Corhole Boards has come from a simple background of lawn and tailgate past times to being a nationally recognized sport. There are two main national leagues right now for Corhole Board, the ACL (American Cornhole League) and the ACO (American Cornhole Organization). Both of these leagues provide national tournaments for the sport with the winners walking away with some pretty hefty cash. If you love playing cornhole, now could be your chance to really make a living out of it.
A Little Bit Of History
For those who are not aware of the history of cornhole then no worries, you're in the same boat as many others. No one really knows where the game's exact origins come from, only that it's been around forever. There are some theories about the game originating from a German cabinet maker creating a game for the neighborhood children, that it actually may have come from the Native Indians who filled sacks with corn, and of course, there is the war on whether or not the game came from farmers in Kentucky or Ohio. Well, some may not agree on where the game came from, but everyone can agree on the fact that it's a fun traditional game that all ages can play.
Family Favorite Lawn Game
Traditionally Cornhole Board has been used for many events or parties taking place outside. It's a game that appeals to all kinds of people whether they are young, old, athletic, or not. Which is no surprise why the game is so popular and continues to grow in popularity. The rules are simple, the goals of the game are easy, and the rules can be easily changed to suit any crowd. It is also possible to get custom cornhole boards and bags made to your specifications. There are many options to customization like:
Custom printed backgrounds

Hand-painted backgrounds

LED lights added to the frame

Rope and leather handles for easy transportation

Custom made bags to match the theme
The game has grown so much since the simple board and bags look that now it's used as a statement at parties, weddings, social events, corporate events, and even advertisements inside of establishments. Uses of customized boards have grown significantly, helping the cornhole brand to grow more than a simple game.
Rise Of Professional Corhole Board
The uptake in Corhole Board tournaments inspired exponential growth in its popularity for a serious sport. This brings us to The American Cornhole League, where "More than 35,000 athletes have played in one of the ACL's 105,000 events since the league's inception." More businesses are finding out how they can host their own tournaments, or how they can become a host for national league tournaments for an easy way to draw more crowds to their establishments. Make sure to look in your area for places hosting events where you can either watch or test out your skills against other professional players in your area.
What It Takes To Be A Professional
Even though the sport comes from a simple background, the rules in a professional setting are stringent on how to play the game. There are specific board sizes, bag sizes, bag weights, and a point system that uses cancellation points making the game theoretically possible to last forever. Now if you're not familiar with how cancellation scoring works, we can shed a little light on it. Cancellation works by tallying up the points at the end of the round and whoever has the most points profits from the difference. If the score is a draw, then neither team receives points. So you can see how in a league tournament the time to complete a match can vary, some matches last over four hours.
This is where many of the athletes in the ACL will tell you where the real challenge lies. Professional cornhole is not only very competitive but also filled with endless strategies of not only scoring points but also preventing your opponent from making points or taking points away from you by knocking your bags away from the goal. It's a mental battle of wits, strategy, perseverance, patience, and determination to outplay your opponents in the long game, kind of like chess but with boards and bags. So if you're thinking of going pro, don't think it will be easy. Many professional players dedicate much of their time and effort to coordinate their throws and to perfect their game strategies to compete against other professionals.
ACL On The Big Screen
If you've been browsing the television, you may have caught the latest ACL championship game on ESPN. Now accepted as a national sport the dream of being on television has come true. Making their deal in 2017, "the ACL inked a three-year deal with ESPN to air some of its tournament events—the ACL Pro Series and the ACL National College Cornhole Championship—on ESPN 2 for the 2018 to 2020 seasons." So tune in next time and catch a glimpse and the professionals hard at work to win the grand prize.
If you're interested in playing professional Corhole Board, then be sure to use the right tools. At Custom Cornhole Boards US we offer league certified boards in our store for you to practice with. We also offer customized boards to entertain your guests and make your cornhole board game one of a kind. Be sure to contact us through our site or give us a call today for any questions at 1-407-203-6886!