Wedding Lawn Games: Impress Your Guest
---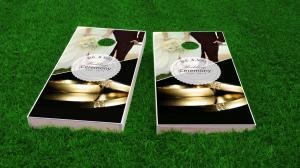 Move over boring receptions and bring on the games. That's right, there's nothing like wowing your guest during the after party. Make sure there is never a dull moment and bring out the games. Here are some cool lawn games that guest of all ages will enjoy.
Cornhole
An American classic that appeals to all ages and is easy to set up and play. There are also a lot of options to customize the game that can really make it pop at weddings. Make the stakes high and set the teams as bride vs. groom to excite the competition. Cornhole boards can easily be made to match any wedding theme. Also, customized cornhole bags can really bring everything together. For example, using a photo as a background to the board and engraving the bride and grooms initials onto the bags. Here are some other ideas for making cornhole match your wedding:
Custom LEDs for nighttime weddings
Rustic engraved wood boards
Change up the rules to make things more interesting
Custom sizes and materials Another significant aspect of cornhole is that the rules are flexible, so change them up to match your wedding theme. There are already a lot of variations to the game out there, so why not make your own. Don't let your guest forget the excellent time they will have at your wedding.
Giant Jenga
Another easy game to play is Jenga. With simple rules and easy setup, Jenga is one no-brainer for a lawn game. Furthermore, Jenga does not have a limit on how many people can play, so this is an excellent game if you expect a lot of people. This game can also be easily customized by putting the wedding couples names on the blocks with the date.
Giant Connect Four
Everyone knows how to play Connect Four, so why not a giant version of this traditional game. Family friendly and appropriate for all ages, connect four is an excellent addition to any reception. Also, this is yet another superb example of a game that can be easily customized. For example, monogrammed pieces that guest might take home to remember.
Horseshoe Toss
A traditional classic game where your guest can take turns challenging their skills. Horseshoe toss can bring laughter and fun to any reception. Change up the colors of your horseshoes to also match the theme of your wedding.
Croquet
The old-time favorite, croquet comes to mind when many people think of lawn games. This game lasts anywhere from one to three hours. This means you can keep your guest entertained while the time flies by having fun. Easy to learn with a quick set up, this game is another excellent choice for wedding reception games. Furthermore, croquet is another example of an easily customizable set that can bring together any wedding theme.
Having a reception in the Orlando Area? Come Check out Cornhole Boards USA, conveniently located in downtown Orlando. We can help create your perfect wedding Cornhole Board and bags to help make your wedding stand out even more. Contact Us at 877-359-5644!