The Easy Way to Design Your Perfect Cornhole Bag
---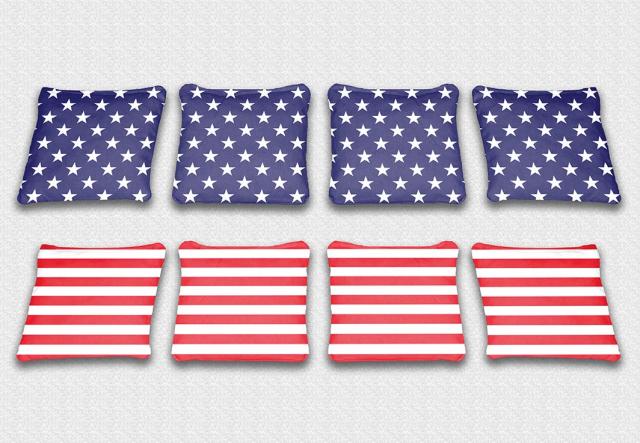 Customized cornhole bags offer a fun and unique way to add a personal touch to any game of corn hole. Custom printing is a great way to distinguish your family's bags from others at events or gatherings, or use them to create a special keepsake for wedding guests, class reunions, fraternity parties or corporate events.
Until now, customized cornhole bags were difficult to find, time-consuming to create and often cost prohibitive to purchase. CornholeBoards.us is changing that, and we now proudly offer a unique design feature that simplifies the process of creating corn hole bags to meet your exact specifications.
To get started, simply visit Custom Bags and click on "design your bag now". This will take you to our interactive page where you can add your background, design and/or company logo. For the highest level of control over customization, simply download our Photoshop Custom Bags Template and start creating.
If you need your bags in a hurry or prefer to rely on a keen eye and artistic skills of our design experts, consider browsing our ever growing library of designs to select the one that is perfect for your needs. Themes include everything from beach designs to flags, patriotic symbols, and hunting or his and hers. Designs are easily mixed and matched or edited to create the look you are after in only a short amount of time and with just a bit of effort. New designs are being added regularly as we improve and enhance our bag customization feature, so check back regularly if you don't see what you are looking for. Also, feel free to reach out and give us your suggestions. We would love to hear them!
While designing your customized cornhole bags, let us know if you have any questions. Our team is available to assist by email, phone or through our convenient chat feature. Each professional is knowledgeable, artistic and ready to help you bring your vision to life. Whether you need help designing a layout, coming up with a concept, uploading an image or making a few edits, we will get it done professionally and efficiently and deliver the perfect product to your door in a minimal amount of time.
Our customized cornhole bags are manufactured in the United States and made of the same high-quality materials as our ready to deliver cornhole bags. They are 6" x 6" regulation size and weigh between 15 and 16 ounces. Each is made of a premium duck cloth material and whole kernel corn fill and triple stitched with nylon for durability and longevity. We are so confident in our bags that we offer a 30 day no break guarantee to protect your investment, so feel free to enjoy your game and put them to the test.
At cornholeboards.us, we are listening to your requests and ideas. As a result, our team is always thinking of new ways to enhance your customer service experience and deliver top-quality products that meet the exact needs of each of our valued clients. Our new custom cornhole bags feature is something we are proud of, and we hope you will love it too. Try it out the next time you are ready to order some bags, and be sure to let us know what you think. We look forward to hearing from you and continuing to work hard to make your game of cornhole better than ever.