Cornhole Boards On The Great Food Truck Race
---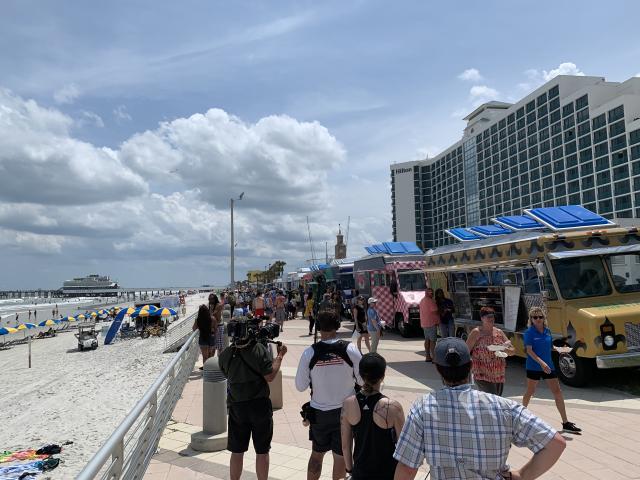 If you love food on the beach, be sure to watch Tyler Florence's series "The Great Food Truck Race". Featuring 9 food trucks that compete for customers by preparing the best food truck meals you've ever seen. The show kicked off in Myrtle Beach, South Carolina where competitors battled it out and then headed down to Hilton Head, South Carolina. The 7 remaining then headed down to the sunshine state, Florida, for the rest of their food truck cook-offs. This Sunday's episode, 6/23/2019, they will be by Daytona Beach's International Speedway on the Daytona Beach boardwalk serving up fresh food to everyone that follows the delicious smell of food. The final stops will be Tampa, Fort Myers, Fort Lauderdale, Miami, and finally the Key West where the finalist will fight for a $50,000 grand prize.
What do food trucks have to do with Cornhole Boards?

Cornhole boards are a traditional American game that's appropriate for all ages. The rules are simple, and the game is easy to play. Its popularity has grown in the tailgating community as a pastime during Football games.
Custome Corhole Boards Inc. will be making an appearance for the show and providing custom cornhole boards for each food truck still in the race taking place this Sunday In Daytona Beach International Speedway. The trucks will compete for the best crowd, the winners can keep selling while the others must stop and play a game of cornhole using their custom boards.
Interested in holding your own event?
Cornhole boards are a great way to draw in people for any event. With its sudden rise in popularity, the cornhole board game is becoming a common sight at many events and businesses. You can have your own custom board designed with your business name, family crest, or even your bowling team's logo printed on it. You can also network with local businesses to see if they will host your board in their shop. Some ideas for businesses include: event venues, local bars, and clubs to name a few. This allows for crowds of people to have fun playing cornhole while gaining exposure for your brand.
However, if you're not promoting your business and you were thinking about going to the charity route, we couldn't agree with that idea more. A custom cornhole board is a great idea for fundraisers, donation rallys, or maybe even an event on a cruise ship. If you've got a crowd of people aimlessly wandering around, that's when you need to pull out your custom cornhole board and get the event back on track.
How to customize your board
There are plenty of ways to customize your board and make it stand out. At Custom Corhole Boards Inc., we can hand paint or print a decal of your choice and professionally apply it. You can use your own image and create a board using our online tool, or you can choose from one of our featured boards that may already fit the theme you're going for.
There are also additional accessories to bring everything together, like LED lights, so people can keep playing even when the sun is going down. There are standard rope handles or leather handles as well to make the board easier to transport. Don't forget the cornhole bags, which can also be custom made to match your custom board. The cornhole bags are the perfect size to stamp any logo or favorite sports number on for everyone to see.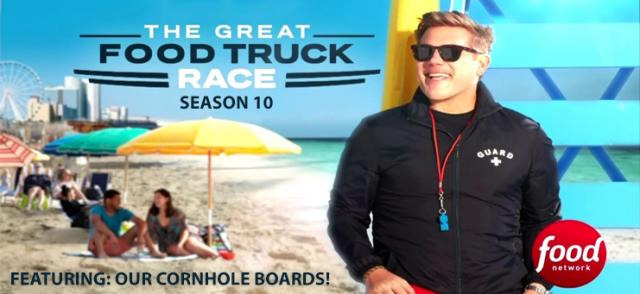 See it in action
You can watch us on the Daytona Beach boardwalk by the International Speedway in Daytona Beach, and see the quality of our boards in action. Watch pro food truck teams duke it out with our boards on national television. Watch out for Season 10 episode 3, "Fast and Furious" this Sunday 6/23/2019.