Cornhole Boards, Inc. Honors Veterans and Shows our Pride in America
---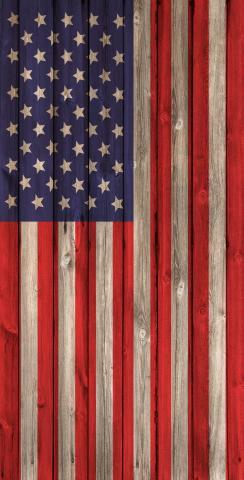 The American flag stands strong as a symbol of our freedom, unity, strength and the great sacrifice that men and women have made to secure and support our liberties. This symbol has always been recognized as an important one by the cornhole industry, and cornhole boards are created by several different companies displaying the stars and stripes of the American flag with careful craftsmanship.
Changing Traditional Placement of the American Flag on Cornhole Boards
While beautiful and symbolic, until today, cornhole boards have misrepresented one important detail; industy standard is to display the stars at the top right of the stripes rather than to the left, as they are depicted on the American flag. At cornholeboards.us, several of our valued customers are veterans of the U.S. armed forces, and they brought the importance of this inaccuracy to our attention. Because the flag is so meaningful to these brave men and women, they took offense to the stars being placed to the right and requested that we do our part to make a change to how the flag is represented on cornhole boards. When customers speak, Custom Cornhole Boards Incorporated listens. Effective immediately, company policy states all cornhole boards created by us and representative of the American flag will accurately display the stars to to top left of the stripes to more closely align with the traditional appearance of the American flag.
Custom Cornhole Boards Incorporated Respects and Honors this Great Nation
From management level down, our company has always been proud of this great country we live in. From our earliest days in business, we chose to hand build cornhole boards here in America because we believe in the quality provided by American workers. Our decision has saved and created jobs, and it is our hope, in some small way, has improved the economy right here at home. We strive to provide nothing but the best in cornhole boards, bags and supplies, and we know that the surest way to do that is by maintaining high quality control standards over every product we sell, manufacturing right here at home and with a team of professionals who we trust. This new policy is in line with our belief that America is a strong, viable competitor to be recognized for creating top quality products throughout the global marketplace. Our country deservers to be respected, honored and supported.
Change Starts Small
It is our hope that this small change helps our veterans and all of our customers to better understand that their voices are valuable to Custom Cornhole Boards Incorporated. We also believe that changing the placement of stars and stripes to better represent the American flag shows our high level of support for this great nation. Perhaps, we will even start a trend causing other cornhole board manufacturers to follow suit. Personally and professionally, we would love to see this change become the new standard throughout the cornhole board industry. Check out the new design of our American flag cornhole boards, and be sure to let us know what you think.